The Darkest Star (Origin, #1) by Jennifer L. Armentrout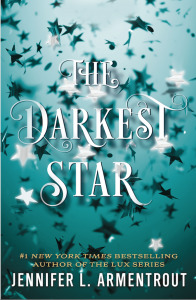 Blurb:
When seventeen-year-old Evie Dasher is caught up in a raid at a notorious club known as one of the few places where humans and the surviving Luxen can mingle freely, she meets Luc, an unnaturally beautiful guy she initially assumes is a Luxen...but he is in fact something much more powerful. Her growing attraction for Luc will lead her deeper and deeper into a world she'd only heard about, a world where everything she thought she knew will be turned on its head...

#1 New York Times, USA Today, and internationally bestselling author Jennifer L. Armentrout returns to the universe of the Lux in this brand new series, featuring beloved characters both new and old.
My Review:
I've been excitedly waiting for The Darkest Star since I first heard it was going to happen. Luc having his own series??? Yes please!
Luckily I was able to get a copy through a trade and I started it right away. The story hooked me right away, but it is solely told in Evie's perspective and I kind of wish it had been told in dual perspectives between Evie and Luc, or maybe even that the whole book might have been told in Luc's perspective, although now that I think about it the latter probably wouldn't have worked.
You get a (small) glimpse of some of your favorite characters from the LUX series (hellllooooo Daemon!) but I could have done with a little more. Maybe we'll see them more in the next book?
Like I said, the beginning hooked me and the ending was great but there was a part in the middle that made me want to skim a few chapters and I thought the big reveal about Evie's past could have been revealed a lot sooner in the story. By the time it was revealed it was like, yeah I've been guessing this for what? 200 pages?
Overall, it was a good, solid read and I'm definitely up to continuing this spinoff series whether it's to be a duology, trilogy, or more but you know what they say about spinoffs: they're never as good as the original.
My Rating: