Welcome to the Fall 2017 YA Scavenger Hunt!
Your Hostess for this leg of the hunt!
A few things about me:
- I am obsessed with Halloween
- I'm a bookstagram junkie.
- My favorite movie is Crimson Peak
You Are Currently Hunting On
Looking for my exclusive bonus content? You'll have to keep hunting.
Somewhere on this blog hop, I've hidden the exclusive playlist for my upcoming YA Fantasy / Fairytale Retelling, CurseBreaker. Before you go hunting for it be sure to check out the fantastic author I'm hosting.
A Little More About The YA Scavenger Hunt First...
This bi-annual event was first organized by author

Colleen Houck

as a way to give readers a chance to gain access to exclusive bonus material from their favorite authors...and a chance to win some awesome prizes! At this hunt, you not only get access to exclusive content from each author, you also get a clue for the hunt. Add up the clues, and you can enter for our prize--one lucky winner will receive

one book from each author on the hunt in my team

! But play fast: this contest (and all the exclusive bonus material) will only be online for 120 hours!
Go to the YA Scavenger Hunt page to find out all about the hunt. There are SEVEN contests going on simultaneously, and you can enter one or all! I am a part of the

GREEN TEAM

--but there is also a

red team

, a

gold team

, an

orange team

, a

blue team

, a

pink team

and a

purple team

for a chance to win a whole different set of books!
If you'd like to find out more about the hunt, see links to all the authors participating, and see the full list of prizes up for grabs, go to the YA Scavenger Hunt page.
SCAVENGER HUNT HOW-TO & RULES
Directions: Below, you'll notice that I've listed my favorite number. Collect the favorite numbers of all the authors on the

green team

, and then add them up (don't worry, you can use a calculator!).
HINT: THE SECRET NUMBER IS HIGHLIGHTED IN

GREEN

!
Rules: Open internationally, anyone below the age of 18 should have a parent or guardian's permission to enter. To be eligible for the grand prize, you must submit the completed entry form by

OCTOBER 8TH

, at noon Pacific Time. Entries sent without the correct number or without contact information will not be considered.
I'm happy to be hosting...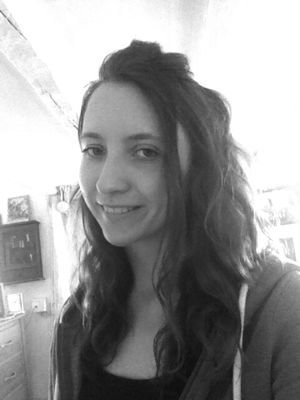 MADELINE DYER

lives on a farm in the southwest of England, where she hangs out with her Shetland ponies and writes young adult books—sometimes, at the same time. She holds a BA Honors degree in English from the University of Exeter, and several presses have published her fiction. Madeline has a strong love for anything dystopian, ghostly, or paranormal, and she can frequently be found exploring wild places. At least one notebook is known to follow her wherever she goes.
The book Madeline is showcasing in this seaon's YA Scavenger Hunt is book 1 of the Untamed Series,
**2017 SIBA Award Winner for Best Dystopian Novel**
In a world where addiction is encouraged, one girl must fight to stay clean...
As one of the last Untamed humans left in the world, Seven's life has always been controlled by tight rules. Stay away from the Enhanced. Don't question your leader. And, most importantly, never switch sides--because once you're Enhanced there's no going back. Even if you have become the perfect human being.
But after a disastrous raid on an Enhanced city, Seven soon finds herself in her enemy's power. Realizing it's only a matter of time before she too develops a taste for the chemical augmenters responsible for the erosion of humanity, Seven knows she must act quickly if she's to escape and save her family from the same fate.
Yet, as one of the most powerful Seers that the Untamed and Enhanced have ever known, Seven quickly discovers that she alone holds the key to the survival of only one race. But things aren't clear-cut anymore, and with Seven now questioning the very beliefs she was raised on, she knows she has an important choice to make. One that has two very different outcomes.
Seven must choose wisely whose side she joins, for the War of Humanity is underway, and Death never takes kindly to traitors.
"A fantastic dystopian tale. Highly recommended for fans of strong heroines and intriguing sci-fi worlds."
Pintip Dunn, New York Times bestselling author of the Forget Tomorrow Series
EXCLUSIVE BONUS MATERIAL COMING RIGHT UP!
In my Untamed series, Three Sarr, the brother of my main character, is one of my favorite characters to write. He's fiercely protective of his family, loyal, and intelligent, and I thought I'd share a little more about him for the YA Scavenger Hunt. And, so, here are the surviving extracts from his journal!
The Surviving Extracts from the Journal of Three Sarr
Went on a raid this morning. Stole this journal.
Rahn will be furious if he finds out. He's always saying we shouldn't write stuff down, that leaving a paper trail will lead them to us.
Going to use this book though for notes and thoughts. Untamed stuff and all that. Will also help to have an actual place to keep my diagrams and instructions for making the radios! I'm sure Rahn was taking them before—my notes kept going missing and he'd just say that I shouldn't need to write them down in the first place.
Pity I couldn't choose the cover for this notebook though. Flowers was all they had. Can't be picky when you're raiding.
Ah, just remembered we forgot to look for insect repellent on the raid. Marouska's not going to be happy.
I beat Finn at a fight today! First time that's happened. Was kind of satisfying too.
-
We're low on wire still. Rahn says we'll get some more in the next raid. We were going to go last week, but there were many Turnings in a row and Mum thought it was too risky.
-
Corin's got toothache. His complaints are driving me mad.
-
my new circuit board still isn't working. The new radio's proving tricky too. Not to mention reception isn't good here. Need to do some more designs on it.
-
Esther got stung by an unknown insect. Her arm's swelling up.
Dad asked me what I thought it meant to be Untamed earlier. Got me thinking. Thought I'd write some notes.
So, what is it to be Untamed?
-
To be yourself—and not what they want you to be.
-
To be living out in the wild
-
To be free of addiction
-
Being happy. Properly happy—not their artificial idea of it.
-
It's being human. Having humanity.
Esther's arm seems to be better now. She got all feverish with it. It all swelled up, but Bea and Marouska made a tonne of poultices between them. So, yeah it took about a week. During that time I heard Keelie telling Esther all about when she and Elf and her sisters were traveling here and all the Enhanced Ones she killed. I can never tell with Keelie whether she's making it up or not. None of her siblings ever correct her.
Finn asked me today if I was going to convert to the Enhanced what I'd want my first augmenter to be. He said he'd want to have either Superiority or Immense Happiness. I'm not even sure those are real augmenters.
Then Sajo overheard and went mad at him. Glad I didn't have to answer the question out loud. I think I'd want better memory. Be able to remember all this stuff, especially the circuit board diagrams. Isn't that ironic that the augmenters I'd take would give me the qualities Rahn insists I need to naturally have to "successfully" remain Untamed?
Rahn found out I'm keeping this journal today. He's not happy. Made me rip out a load of pages. Mainly all the ones about my family, like what Seven's first words were and the stories that One and Two would tell me when I was really small. And the pranks they played on me.
Rahn says it's too dangerous to write stuff down. Was furious when he found I'd taken this journal on the raids too. Said the Enhanced could've got it. He called me a "scrawny brat". That made Keelie laugh. Oh and Mila then kept calling everyone a "scrawny brat" for hours. Keelie was trying to stop her, until she called Rahn it, then she just laughed some more.
He also ripped out clean pages too. Most of what was left. There's barely any pages left now, and most of my work and writings have gone. So mad because I finally finished that radio work and had noted down all the frequencies. He said I shouldn't rely so much on writing stuff down or my diagrams. Said I should know it all off by heart. Said successful Untamed make sure they know stuff.
I fu hate Rahn. (Nearly swore there, Mum—I know you normally have a little look at my entries when I ask you to look up some technical note that I've made in here. So don't worry. I listened to what you said. Also, tell Five not to read through my journal! She's just being nosy. Not that there'll be many entries after this one.)
Taylor here - I love that so many of the characters have numbers as names... I wonder if there is a lucky

13

?
Are you dying to read this book?
Here's where you can grab a copy!
You can buy UNTAMED here!
And don't forget to enter the contest for a chance to win a ton of books by me,

Madeline

, and many more! Check out all the books on

TEAM GREEN

,
REMEMBER: To enter, you need to write down my favorite number (found above highlighted in green!), find all the other numbers on

TEAM GREEN

add them up, and you'll have the secret code to enter for the grand prize!
Thank you so much for visiting my website! While you're here don't forget to enter the rafflecopter bonus contest I am running exclusively during the YA Scavenger Hunt. One lucky winner will receive an ARC of my upcoming YA Fantasy / Fairytale Retelling, CURSEBREAKER! Good luck everyone!
Enter the rafflecopter below for a chance to win,
CONTINUE THE HUNT
To keep going on your quest for the hunt, you need to check out the next author...
AMALIE JAHN!