Ever the Brave (A Clash of the Kingdoms #2) by Erin Summerill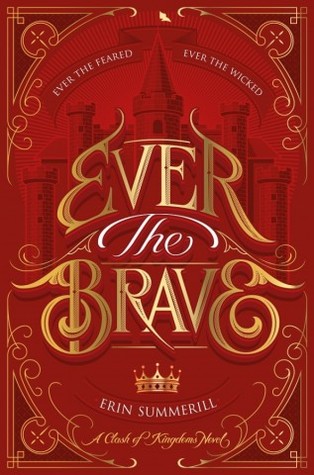 Blurb:
Ever the Divided. Ever the Feared. Ever the Brave.
After saving King Aodren with her newfound Channeler powers, Britta only wants to live a peaceful life in her childhood home. Unfortunately, saving the King has created a tether between them she cannot sever, no matter how much she'd like to, and now he's insisting on making her a noble lady. And there are those who want to use Britta's power for evil designs. If Britta cannot find a way to harness her new magical ability, her life—as well as her country—may be lost.
The stakes are higher than ever in the sequel to Ever the Hunted, as Britta struggles to protect her kingdom and her heart.
My Review:
Ever the Brave picks up where Ever the Hunted left off. Britta has just saved King Aodren's life which has created an unwanted (on Britta's part) bond between the two - a much stronger bond than the one she shared with Cohen. Cohen is still the King's Bounty Hunter and now he's been tasked with tracking down Phelia, the channeler who joined with Lord Jamis to control and usurp King Aodren.
Ever the Brave is told in Multiple POVs; Britta's, Cohen's, and Aodren's and we follow each of them throughout their journeys - together and apart. I love stories told in multiple POVs, so that didn't bother me but to be honest the only character of the three who's perspective I found myself liking was Aodren's. That really surprised me considering how much I loved Ever the Hunted.
For some reason I just couldn't connect with Britta in this book. I know she's supposed to be all "outdoorsy, kickass hunter" girl but I thought her aversion to the things Aodren tried to do for her was annoying. Instead of acting ungrateful couldn't you have just sucked it up? And I didn't like Cohen at all in this book. He acted like a little too much of a jealous jerk for me, then at the end was like a martyr with his "I get what you'd want to be with him" thing. I actually was kind of hoping Britta would end up with Britta in a 'Tamlin-to-Rhysand' kind of way (ACOTAR series by Sarah J. Maas).
While the story kept me mostly engaged, I was not a big fan of the writing. I read an ARC, so this issue might have been fixed in the finished copy, but I kept seeing sentences that I felt a word was missing in which made for awkward reading. Example: Didn't want to upset you. (Should probably read: I didn't want to upset you.) The way it was written seemed choppy, like the thought was just jammed in there haphazardly.
Overall, I liked this book but it took me a while to warm up to it. I still like Ever the Brave better.
My Rating: