Caraval by Stephanie Garber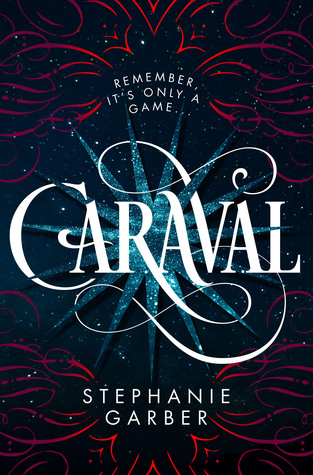 Blurb:
Remember, it's only a game…
Scarlett Dragna has never left the tiny island where she and her sister, Tella, live with their powerful, and cruel, father. Now Scarlett's father has arranged a marriage for her, and Scarlett thinks her dreams of seeing Caraval—the faraway, once-a-year performance where the audience participates in the show—are over.
But this year, Scarlett's long-dreamt-of invitation finally arrives. With the help of a mysterious sailor, Tella whisks Scarlett away to the show. Only, as soon as they arrive, Tella is kidnapped by Caraval's mastermind organizer, Legend. It turns out that this season's Caraval revolves around Tella, and whoever finds her first is the winner.
Scarlett has been told that everything that happens during Caraval is only an elaborate performance. Nevertheless she becomes enmeshed in a game of love, heartbreak, and magic. And whether Caraval is real or not, Scarlett must find Tella before the five nights of the game are over or a dangerous domino effect of consequences will be set off, and her beloved sister will disappear forever.
Welcome, welcome to Caraval…beware of getting swept too far away.
My Review:
Caraval took me much longer to finish than I expected. As one of the most anticipated releases of 2017 everyone kept telling me how amazing this book was and how I absolutely needed to read it.
When I started reading I wasn't sure I would finish reading Caraval. As a heroine I found Scarlett annoying at the beginning of this book. She's so afraid of her father that she's forgotten entirely how to be young and have fun. I also didn't like Tella. She was reckless and stupid where Scarlett was overly cautious and too prim.
I admit, I set this book down. Then I decided to give the audiobook a try and this review will also be part-review of the audiobook. Quickly I will comment on that - this was my first time listening to an audiobook and I enjoyed listening to this story but I found the narrator's voice to be annoying, especially when she tried to throw her voice to sound like Julian, Scarlett, or Tella when she spoke. It made Scarlett sound air-headed and stupid and Julian sound like a sarcastic drug cartel member (haha).
Back to the book - it wasn't until Julian and Scarlett went to the clock shop that I really became interested in the story. It was the main selling point on why I bought the audiobook after listening to an extended excerpt I got when I got this book from OwlCrate in February. I needed to hear more about this dazzling world of Caraval. But it wasn't until Chapter 20 that I really felt like I fell in love with this story.
The world of Caraval is extraordinary and the author's imagination is astounding! I only wish there really were a place like Caraval. The colors, the people, the sights are all described flawlessly and I could easily picture them in my head as I listened to the story night after night.
I loved Julian from the beginning, he was the perfect love interest - loyal, protective, saucy, and just frustrating enough that you wanted to shake him until you found out all of his secrets.
As I neared the ending of this book I kept guessing right along with Scarlett as to how the game would end. Would she be able to save her sister? And just who was the mysterious Legend? Did we meet him during the book and not realize it?
Overall, I enjoyed this book, more so after the halfway point of the book. Caraval is truly unlike any other book. The worldbuilding is fantastic, probably my favorite part of the book overall. It just shines - incomparable to anything else! I know there is going to be a second book, as the ending hinted at more of an adventure for Tella to come, but I can't see the author doing anything more with Julian and Scarlett as main characters. Their story seemed tied up with no loose ends and I hope the author doesn't mess with that.
My Rating: